Understanding the full cost of your self build project is key to ensuring a successful build. As well as the material cost of your build and the level of specification required there are various other factors to consider, issues such as ground conditions, access to the site, location and proximity of services are a huge factor in the build budget and in establishing all of the costs. Homebuilding & Renovating magazine in conjunction with the RICS produce a table of average guideline build costs which is a useful starting point for calculating a sensible budget. This table is self explanatory as shown below and please click on it for a larger view. Please note the date for the able was 2014.


Please click the table for a larger view.

Notes:
The figures: These figures are established figures, based on a survey of all the case studies that appeared in the H&R magazine. These base figures are then updated monthly using the Rebuilding Cost Guide indices published by the Building Cost Information Service.
Area: The area of the house is the Gross internal floor area and is the measure to use (the industry standard). It's the area measured to the internal face of each external wall for each floor level, including areas occupied by internal walls. The cost per square metre figure allows for a finished home, including kitchens and bathrooms but not including external landscaping.
VAT: As VAT is zero-rated for new builds (i.e. not payable), the figures do not account for it.


Your Build Route
Your level of involvement in the project will influence the build costs. For simplicity, the four most common build routes have been identified below:
Build Route A: Building on a largely DIY basis, substituting around 30% of labour costs with DIY, and employing help with the rest of the building work with materials purchased directly.
Build Route B: Building using trades people hired directly. Minimal DIY involvement. Most materials purchased directly.
Build Route C: Building using a main contractor or package supplier to complete the structure to a weathertight stage, with the remaining work being under­taken by subcontractors with most materials purchased by self-builder direct from suppliers.
Build Route D: Building using a main contractor. Building in this way requires the least involvement from the self-builder.

Build Quality
The standard of specification that you choose will have an enormous influence on your build cost. For estimating purposes, three general categories of quality have been identified:
Standard: This represents a basic build quality equivalent to that offered by most speculative developers. Cavity walls: facing bricks (£250/1,000 or £45/m² laid), insulation, and 100mm block­work; concrete interlocking tiles (£28/m² laid); standard softwood joinery; studwork partitions; contract kitchen; basic sanitaryware; and radiator central heating.
Good: This is equivalent to that offered by quality developers. Cavity walls: facing bricks (£450/1,000 or £56/m² laid), insulation, and 100mm blockwork; clay machine-made tiles (£36/m² laid); high-end off-the-shelf softwood joinery; blockwork partition walls; top-of-the-range contract quality kitchen; quality sanitary­ware; and underfloor heating (UFH) downstairs.
Excellent: A very high standard. Cavity walls: bricks (£650/1,000 or £67/m² laid), insulation, and 100mm blockwork; plain clay tiles (£45/m² laid); hardwood joinery; blockwork partitions; bespoke kitchen; quality sanitaryware; UFH.

Make Adjustments
Having found your rate (£/m²) from The H&R Average Build Cost Guide make any adjustment for quality or unusual materials that may be necessary (see below) and then multiply the adjusted £/m² by the gross internal floor area of your design to calculate a build cost estimate.
Using Roof Space: Using roof space to provide accommodation is less expensive than adding a full extra storey. For estimating purposes, calculate the cost separately by multiplying the additional useable gross floor area by 70% of the average £/m² for the house.
Basements: For estimating purposes, treat basements as above-ground space and include them as part of your measurement of gross internal floor area.
Facing Materials: Alternative facing materials will have a direct influence on overall build costs. To adjust for this you need to add or subtract an allowance/m² for your chosen wall cladding from the sum allowed for cladding within your chosen specification. For render on blockwork allow £25/m²; for timber cladding allow £25/m²; for hand­made weather tiling allow £54/m²; for rubble walling/flint allow £90/m²; for reconstituted stone allow £48/m²; for natural stone allow £75/m².
Roofing Materials: Alternative materials will affect your overall build costs. To adjust for this, add or subtract an allowance/m² for your material from the figure allowed in your chosen level of Build Quality (e.g. £28/m², £36/m² or £45/m²). For new Welsh slate allow £60/m²; for second-hand slates allow £35/m²; for handmade clay tiles allow £65/m²; for reed thatch allow £80/m².
Sloping Sites: For estimating purposes, allow an additional £10/m² for every degree of slope.
Bespoke Joinery/Kitchen: To adjust for bespoke handmade windows and doors, or a kitchen, add the quote (excl VAT) to your estimated build cost, less the allowance of £40/m² already in the costs.
Ceiling Heights: For every 0.1m of additional ceiling height (on top of the standard 2.4m) add 1% to your £/m².
Garages and Outbuildings: Although an integral garage is unlikely to be completed to the same standard of finish as the rest of the property, for these purposes include integral garages within your measurements of the living area.

Extra Fees & Costs
Stamp Duty: Self builders only pay stamp duty on the cost of the land, not on the value of the completed property or build costs. Please check HMRC for the current rates applicable here.
Topographical Survey: £300 to £600.
Legal Fees: £750 to £1,000.
Design Fees: Generally ranges from 4% to 12%, depending on the services you require. Design and planning only is around 4%. Design, planning & building regulations would be around 6%, and 12% would be for design, planning & building regulations, plus full schedule of works, renders and full project management on-site. Obviously this is where Selfbuildplans.co.uk will reduce these figures by supplying a unique and taylored design to suit your budget.
Structural Engineer Fees: £250 to £1500 for a straightforward design, considerably more for a bespoke or complex structure.
Planning Application Fees: £335.
Building Regulations Fees: £500 to £800.
Self Build Insurance: £600 to £1,200, depending on the value of the project.
Warranty: Most lenders will require you to have a structural warranty certificate, which will provide you with 10 years cover for any defects with the materials or structure of your house. There are several warranty providers, ranging on cost from £1,400 - £3,500.
Services: Typically £3,500-6,000 total.
VAT: You can claim back all the VAT paid in connection with a new build. This does not apply to professional fees, however. You must file your application within three months of your final completion date and provide all the relevant documents, receipts and certificates required, or your application will be rejected.
Additions: i.e. External Works, Demolition, Tree works..etc.



Example of Build Costs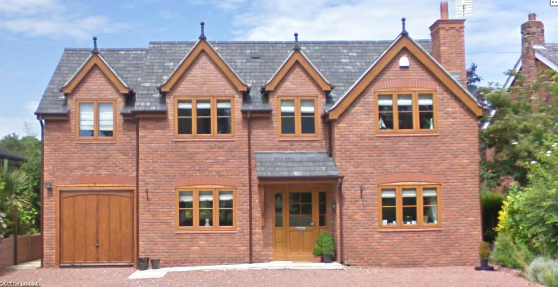 The Thimbleweed - The property was completed in Cheshire towards the end of 2010 and has a habitable floor area of just over 1700sqft (158sqm). It has an integral garage and 5 bedrooms with a conservatory addition to the rear. A breakdown of the costs have been kindly provided from MGD Building Cost Services and are listed below as a real example:
Description

Existing site clearance & demolition
Substructure (Foundations to structural slab) incl drains, soakaway and sceptic tank
Superstructure (Structural slab to Roof inc. Joists, Plasterboard, windows etc)
External Finishes/Landscaping/walling
Mechanical & Electrical (Electrics & Plumbing)
Internal Finishes
Supply & Fit Kitchen
Sanitaryware(material only)
Service Connections
Preliminarys
Supply & Fit Fireplace
Carpets
Full Conservatory inc. foundations
NHBC/LA Fees

Grand Total

Costs

£11,616

£18,794

£104,095

£20,600

£13,173

£9,047

£14,112

£3,447

£605

£11,085

£1,200

£1,646

£13,110

£2,542

£225,072
Notes:
The site had an existing bungalow that required demolishing and several trees.
The services connection costs are low due to the site having existing services ready for connection and generally the cost would be around £3,500k.
The build was a traditional brick and block cavity wall construction with traditional joists and trusses.
Please remember that the above costs are the actual costs for this build and your own costs may vary.

Hopefully this has given you enough information to put together a cost base for your project. However, please search the internet for additional information as there is plenty out there to help you.