Planning Application Services
To compliment your chosen housetype, we can also undertake the planning application to the council. The planning application needs to be accompanied by some additional information and drawings which are required under your Local Authority Planning validation requirements. But more important than the drawings is the free advice provided by Selfbuildplans, once instructed. Our advice can be invaluable to ensure compliance on statutory and legislation requirements and also simple elements like interface distance, parking, storm drainage, levels, elevations style etc. which is included in any planning application services appointment. Below is the standard list of documents/drawings required with our example costing:
The Complete Planning Package
To compliment your chosen housetype we also offer a complete planning package from just £650 + VAT.
This includes as standard:
Your chosen housetype planning drawings – single dwelling;
Existing Site plan at 1:500
Existing Location plan at 1:1250;
Proposed Site plan at 1:500 including site specifics of new boundary walls, interface dimensions, access details etc.
Proposed Location plan at 1:1250;
Design & access statement of approx. 20 pages including previous planning history, full area photo's, LA policies etc.
Full planning submission, advice & management of the application.
The above is the minimum information required for any residential planning application and there maybe additional information required, of which we will advise. Please do not think that this must not be a professional service as we have over 25 years of producing residential schemes and house designs and guarantee you will not be disappointed with our service.
Please contact us to discuss your ideas, proposals or specific requirements for a free no obligation quote.
Below are some examples of the documents/drawings produced:
An Existing Site Plan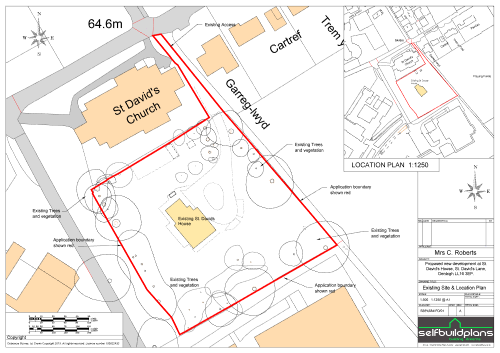 A Proposed Site Plan


A Proposed Housetype Drawing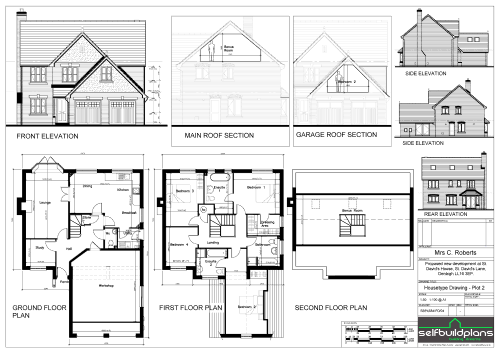 An example Design & Access Statement