Please find below a varied selection of our most recent projects:

Outline Planning for 4No. Dwellings
A recent project to help a client in gaining a successful planning permission for 4No. dwellings. These commercial premises were disused and had an employment use class, due to this it was also classed as a brownfield site. The application took just eight weeks and was approved first time for residential use. Selfbuildplans completed the full application together with the associated drawings & documents and managed the application to a successful conclusion. The application site extends to just over 1.03 Hectares.
The proposal was for 4No. Dwellings and associated garages as shown: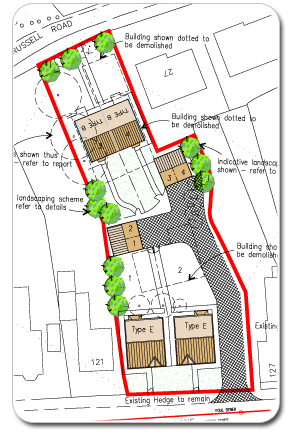 Housetype E (2no.)


4 Bed detached property
1170sqft (108.7sqm) each
Detached single garage






Housetype B (2No.)


3 Bed semi-detached property
819sqft (76sqm) each
Detached single garage

Full Planning for Single detached Bungalow
A speculative project to convert garden land to a residential dwelling. Another application that took just 8 weeks for the approval and achieved a satisfactory outcome. This bungalow was bespoke to suit the land shape and size and at 1200sqft with 3 bedrooms it met the clients requirements exactly. The application was submitted on our own recommendations as we were confident that a successful determination would be obtained. To support our application a simple CGI was produced, as shown below.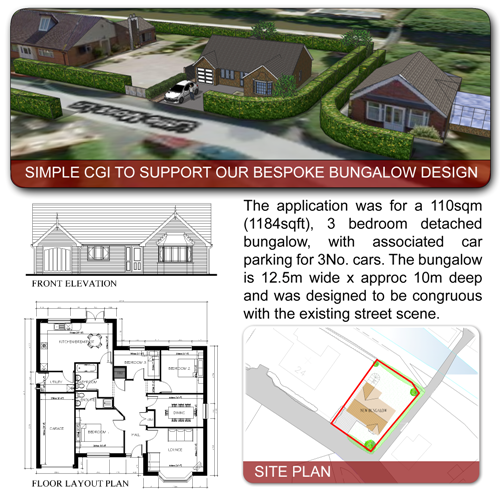 Full Planning for a Single detached House - Sloping site
This project proved a real challenge with an incredibly steep incline that required another bespoke housetype set on 3 levels. The client required a traditional finish with reconstructed stone head, cills, features and metal windows to complete the look and feel of a period style dwelling. The dwelling has 4 large double bedrooms and 2,500sqft of habitable space.

Full Planning for Extensions, Alterations & Loft Conversions - Residential
Selfbuildplans are involved in numerous residential projects from loft conversions to an array of extensions and alterations.
Large rear extension with internal alterations


3 Bed property extended to 4 bedrooms






Loft conversion


2 Bed semi-detached property
Converted to 3 bedrooms

Full Planning for an existing Grade II listed Building converted to Apartments
Selfbuildplans can be involved in any residential project including the conversion of existing buildings to residential use. The following project was a redundant mill that required a part conversion to apartments to fund the future maintainance and management of the grade II listed building. The scheme retained the commercial aspect of the mill and involved a traffic management report, listed building justification statement, Design & Access Statement, Planning statement and maintenance scheduling all completed by Selfbuildplans and necessary to gain approval.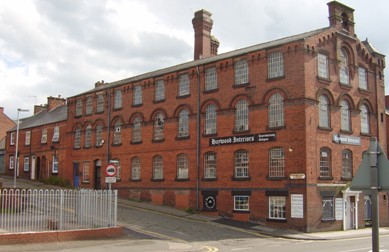 Planning & Construction Drawings for a pair of semi's
The client wanted Selfbuildplans to create a unique 3 bed semi to meet their requirements and we produced a new type 'The Water Ash'. This is a large 3 bedroom semi at 923sqft which includes a downstairs toilet and main bedroom ensuite. Please click here to see the Water Ash product page.